More precise ,more fast and more compact
Single-cartridge Chemilumiescence Immunoassay System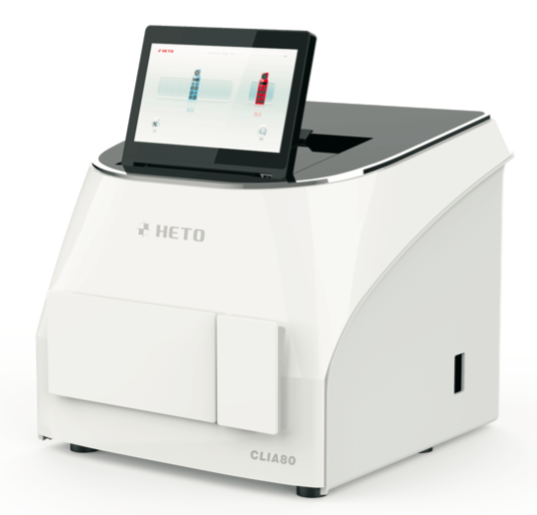 SPECIAL FEATURES
Inependent test channels, same or different parameters can be tested in parallel
Ready-to-use cartridge, no other consumables are needed. Operation friendly.
Samples can be whole blood ,plasma, serum
No fluidic connection ,no water source is necessary ,Maintain free .
TECHNICAL SPECIFICATIONS
Throughput : Up to 13 samples/parameters per run, different parameters can be tested at the same time .
Measuring time: Fastest 10 minutes
Speimen: Whole blood , plasma ,serum
Measuring principle: AP system (Glow chemiluminescence)
Reaction temperature :37°C
Sample volume: Plama or Serum 60 ul,Whole blood 100 ul.
Data storage : 100,000 including patient data,QC data,CAL data.
Data transfer: LIS,Wifi,Bluetooth
Weight: 46kg
Dimension:579mm x 520mm x 485mm
Voltage requirements: 100-240V AC(50/60Hz)
Power consumption: 400VA
Monitor /keyboard: 12 inch LCD touch-screen
Printer: Integrated
PC: Integrated
Barcoder reader: Integrated
Interface: USB and Ethernet Port
Calibration: Factory Calibration,2-point calibration every 4 weeks